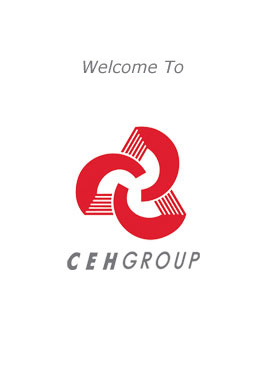 Back in 1920s, Chee Eng Hang Pte Ltd started from the trading business. It has since grown to a strength of over 650 staffs with a network of branches located strategically over Asia-Pacific region and Seattle, USA. The CEH Group has gained a reputation in the industries of polyurethane, automation, safety shoe, pumps and property. This is made possible through our innovative solutions and quality service.
Having span a web of 3 major divisions with numerous subsidiaries in the Asia-Pacific region, we are set to serve our global customers. These 3 major divisions deal in distinct industries – Polymers, Automation, Trading & Property. We have active tie-ups with leading companies globally to maintain technological advancement. These relationships have indisputably affirmed each of these divisions as the specialist in their own field.
Our clientele includes companies in the Fortune Global 500 listings. The emphasis on quality service has prompted an ongoing training program for our staff.
Today, CEH Group is poised to meet the high demands of our customers and actively involved in Green Environment Activities.
Chief Executive Officer
Mr Oei Han Siang
Executive Vice President
Mr Oei Han Tjing
Senior Vice President
Mr David Oei
Vice President (CEH Group Shenyang)
Mr Ng Chin Hong
Chief Operating Officer
Mr Stuart Wong (Automation Division)
Strategic Committee
Mr Andy Oei